More seriously, this unprecedented crises has turned our world upside down, forcing billions of people into social isolation and reinventing the way they interact with their environment and social circles.
Our Digital Studio was not spared during the lockdown, and we were all put in full work from home mode as soon as the crisis started. Needless to say, this created some confusion, and teams had to adapt quickly to keep things rolling.
After a couple of months, I was interested in checking in with some colleagues, and asking them how they were doing. Most importantly, I wanted to see whether they could share some lockdown lessons they learnt along the way…
"We were given the opportunity to prove what we were capable of, and we took it."

Samy Kolahi, Senior consultant
Once the work from home policy put in place, everyone was all of a sudden fully in control of their own agenda. People could spend their extra time however they saw fit. Some took up a personal project, others spent more time with their families or started a new physical activity.
Having to perform all of the work remotely put the pressure off the actual time spent at the office, and put the focus on the work performed. For instance, as development work is fully software driven, our projects went on as usual. The management of our near-shore teams continued without a hitch, since we were anyway used to interacting with them virtually.
With this in mind, we hope that this success will pave the way to a more flexible work environment, as our teams proved that they could deliver quality on projects – even in the most challenging times.
"Strong trust between team members is the cornerstone of the succesful delivery of our project."

Sarah Leroy, Graphic designer
Adapting to this new way of working was not easy. It was a process that required high levels of trust to avoid giving into sneaky micromanagement. The stronger the bonds within a team, the more transparency there is between members. Nevertheless, interacting virtually has its limits. No Zoom call can realistically replace the energy you can feel when you are in the same room with the most creative people you know.
Most of graphic designers are used to work as freelancers in their home office. But once you move to consulting and get used to working in teams, it becomes difficult to go back. Ideas have a hard time flourishing when you are alone in front of your screen. Some people say creativity is messy, and working online doesn't feel messy enough sometimes…
"The lockdown pushed us to be even more creative. Not only in our deliverables, but also in our way of working."

Guillaume Thys, UX Design Lead
Our team had to look into creative solutions to transition all the planned physical workshops into virtual ones. After some research, we were pleasantly surprised with the different online tools which were available to keep them as interactive as planned. Tools such as Miro, Freehand and Invision earned their stripes in various workshops that were held with clients. Now, they can't get enough of them!
Regarding our prototyping activities, find below a real-life example of how our UX Design Lead took up the challenge of delivering them from home. Today, he is working on a digital signage project. They are complex and need very specific testing conditions.
In just a few days, he set-up his very own testing enviroment at home: he managed to simulate large interactive screens on his walls, and tested the experience for different user segments. He tested whilst standing up, but also whilst sitting in an office chair to emulate the experience for wheelchair users. To make sure that he had everything he needed, a smaller screen was delivered to to him so that he could test his designs on the actual screens where they were going to be displayed.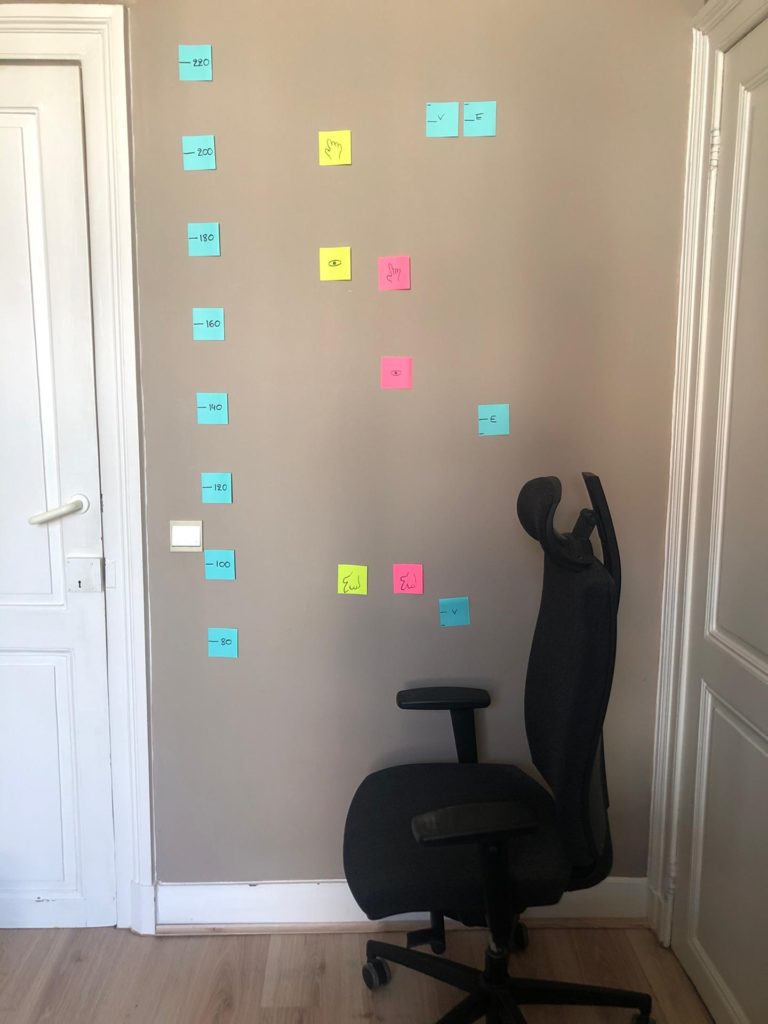 "A more empathetic leadership style naturally emerged as the answer."

Maxine Lemm, Senior consultant
There is a great diversity of profiles in terms of seniority, background and location in our teams – all likely to be affected by the lockdown measures in very different ways. So how do you keep everyone sane when managing asymmetric teams?
We started consciously monitoring our teams' mental health. Denying the fact that social isolation is neither normal nor easy minimises people's struggles and experience. Being honest about the uncertainty of the current situation proved to be essential in keeping open lines of communication with our colleagues.
Regular touchpoints were put in place for team members to stay connected, both individually – for coaching and support- and as teams -for project follow-up and team spirit. Team members were encouraged, and still are, to take regular time off, to detox from the connection burden of round-the-clock calls, emails and messages. As of the first week of the lockdown, we circulated mental health guidelines encouraging people to engage in sports, go outside, and take proper lunch breaks.
An oft-overlooked aspect of leadership is the importance of vulnerability – pretending to be invulnerable makes coaches and leaders distant and harder to confide in. We worked on creating a safe space for communication about our experience in confinement by leading by example.
Trust is a two-way street: by sharing our own struggles, we could empower our teams to do the same. Be careful, however, not to burden those who rely on you and to build your own support network. We can only be effective as leaders if we look after our mental health first – and practice what we preach. 
All in all, this sprint became a marathon faster than we ever thought possible. But thanks to the resilience and tenacity of our Studio members, we made it. We know that this "new normal" is here to stay, but we also know that we'll continue to push through, as we always do.
---
We hope that our lockdown lessons can inspire you to have a new look on how teams work from home! A special thanks to Samy, Sarah, Guillaume and Maxine who shared their time with me to write this article.
Now we want to hear about you: How did you cope with the work from home policy? What strategies did you put in place to make sure everything could run smoothly? Leave a comment down below!