Image source: https://www.emerce.nl/interviews/amber-jae-slooten-the-fabricant-digitale-kleding-belangrijk-deel-online-identiteit
The world of digital fashion is growing rapidly, together with the emergence of the Metaverse. The term "Metaverse" is a ubiquitous term in our society, yet much ambiguity remains about it. It reflects a virtual world in which people can discover new places, new people and new marketplaces. Through the use of personal avatars, NFT's and cryptocurrencies, users will own their own digital identity within these limitless virtual spaces. Although no one can predict the final destination of the Metaverse yet, one can be certain that it will shift our online social way of interaction.
Goldman Sachs cites this technology as an $8 trillion opportunity, which raises enthusiasm among many organisations looking for new opportunities to grow their businesses. Hence, fashion houses are diving into the Metaverse to have an influential impact in this new digital world. By collaborating with different platforms, developing their own virtual spaces or selling NFT's, they are establishing themselves as pioneers within the Metaverse and are building momentum.
Digital Goods
For brands to show relevancy, it is important to be an early adopter and leader of this new mode of engagement and consumption. By collaborating with various gaming-platforms, brands are extending their reach to potential customers. Often, they choose to bleed the virtual to the physical. For example, the luxury brand 'Balenciaga' started their digital journey through their collaboration with Fortnite (by Epic Games). Players could not only buy the Balenciaga x Fortnite outfits and characters within the digital space of the game, but also in the physical Balenciaga store on Madison Avenue.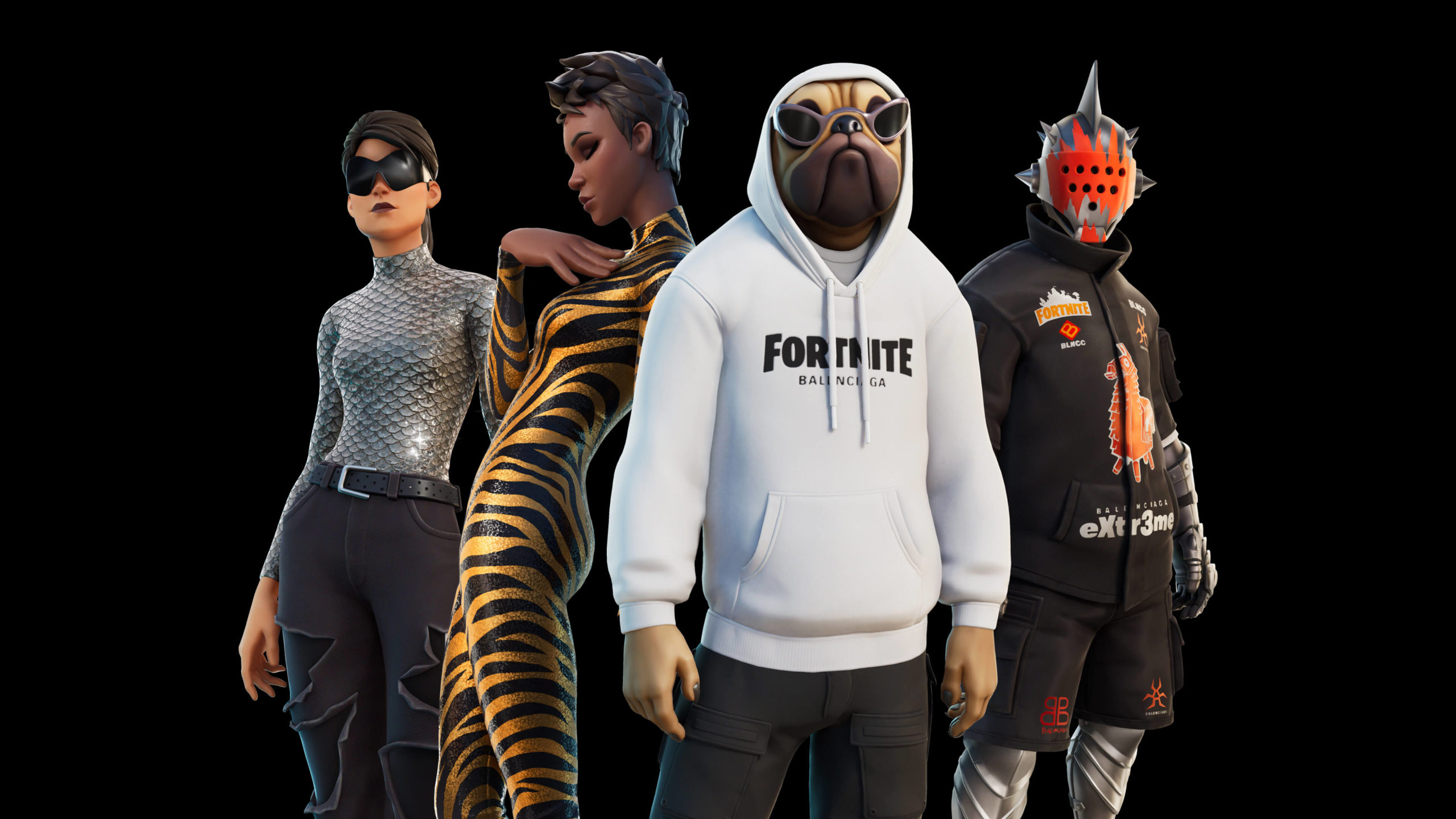 Image source: https://www.epicgames.com/fortnite/en-US/news/high-digital-fashion-drops-into-fortnite-with-balenciaga
Knowing that Fortnite had 400 million registered users in 2021 (with millions of players logging in every day throughout 2022), it makes sense for fashion brands to tap into the gaming industry as it extends their reach to potential customers and creates a connection with a new audience of engaged players. Vice versa for gaming platforms who enter into the high-fashion lexicon.
Other brands such as Nike, Tommy Hilfiger, Adidas, etc. are also offering a mixture of physical and digital-twin products. These often sell as NFT's (non-fungible tokens) and provide a way for brands to add digital value to their collections. The big advantage of having a digital-twin of a physical creation, is that the Metaverse acts as a replica of the real world and items are available for users anywhere in the world. There are no boundaries within the digital space and one could create their wildest imagination.
These digital creations could even sell for more money than the physical items they represent. Gucci sold a digital Dionysus bag (which usually retails for $3,400) for roughly $4,115. However, the item is only usable within the gaming platform Roblox, where Gucci has introduced a virtual two-week event called "Gucci Garden Experience" and eventually opened their own world, "Gucci Town". With over 52.2 million daily active users, Roblox is another popular destination for fashion brands to open digital stores and connect with the increasingly digital generation of gen Z.
In their latest report "Luxury 3.0", HighSnobiety explains how brands are trying to build cultural credibility. Brands as Gucci like to portray themselves as Cultural Pioneers towards the next generation, and it pays off. Gucci topped the Lyst Index, the list of most popular brands compiled by fashion search engine Lyst, in the second quarter of 2022.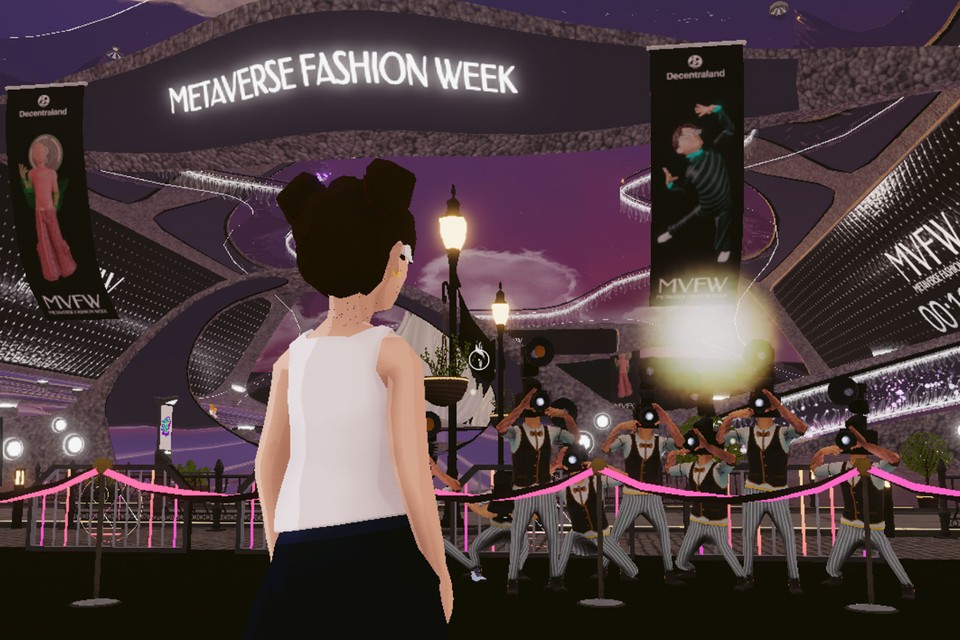 Image source: https://www.btcc.com/en-US/coin-news/market-updates/metaverse-fashion-week-reflects-the-emerging-future-of-digital-world
Another popular gaming platform for fashion brands is Decentraland, which recently hosted the Metaverse Fashion Week. Brands such as Tommy Hilfigher, Selfridges, Dolce & Gabbana, etc. featured on the event with built digital pop-up stores. Both NFT wearables and limited edition physical pieces redeemable via NFT's were sold through cryptocurrency. Also outside the Metaverse Fashion Week brands are accepting cryptocurrencies as a method of payment, which indicates the enthusiasm of fashion companies about the new digital era. According to investment bank Morgan Stanley, the digital fashion industry could generate extra sales that reach $50 billion by 2030.
Although many other examples are not covered within this post, it is safe to say that fashion brands are thriving in the world of digital fashion. They are seeking new opportunities to connect with potential customers and are building their digital brand recognition by selling digital and physical goods within their own created worlds. Companies like The Fabricant, Dress X or RTFKT are paving the way for new innovations in the retail industry, focusing on digital clothing only. One direct application is the possibility to try out digital items within the Metaverse through 3D avatars. Time will tell how this will further evolve.
Let's connect if you want to discuss further!

Thomas Kubski
Louis Heeren