The Web Summit takes place every year and hosts some of the biggest and brightest speakers in the tech industry, as well as hundreds of startups, all pitching their version of the future. I attended the Web Summit wanting to hear from fellow designers and creatives to learn how they're navigating an industry that's in constant motion. As our roles are being redefined by new emerging technologies and our way of working is increasingly focused on optimized processes and fast outcomes, how do we continue to stay creative? How do we come up with innovative solutions for increasingly complex problems and how do we maintain a human-centered approach? In other words, what can designers do to build creative resilience in this ever-changing industry?
I found that there are four common challenges that designers are faced with today. Here's what I learned from my favorite speakers on how they approach these challenges to set themselves up for a successful future.
Redefining collaboration in a work-in-progress world
One of my favorite speakers, and also the most relatable, was Yuhki Yamashita (Figma), who spoke about the chaotic reality of modern design.
The traditional, linear design process is officially a thing of the past, as product development has become faster, cheaper to build, and easier to reiterate. Instead, we've evolved towards a process where nothing is ever finished and everything is always a work in progress. This way of working is challenging designers to share their work sooner and make changes faster, allowing for more fluidity, but also more chaos. Without distinct stages in the design process, it's often challenging to find the right time to ask for feedback. Combined with real-time, multiplayer collaboration and a continuous flow of input coming from different stakeholders, the process can be overwhelming. As a result, the way we collaborate and give feedback needs to change to help designers make relevant design changes, at the right time.
"The form feedback takes is just as important as the feedback itself" – Yuhki Yamashita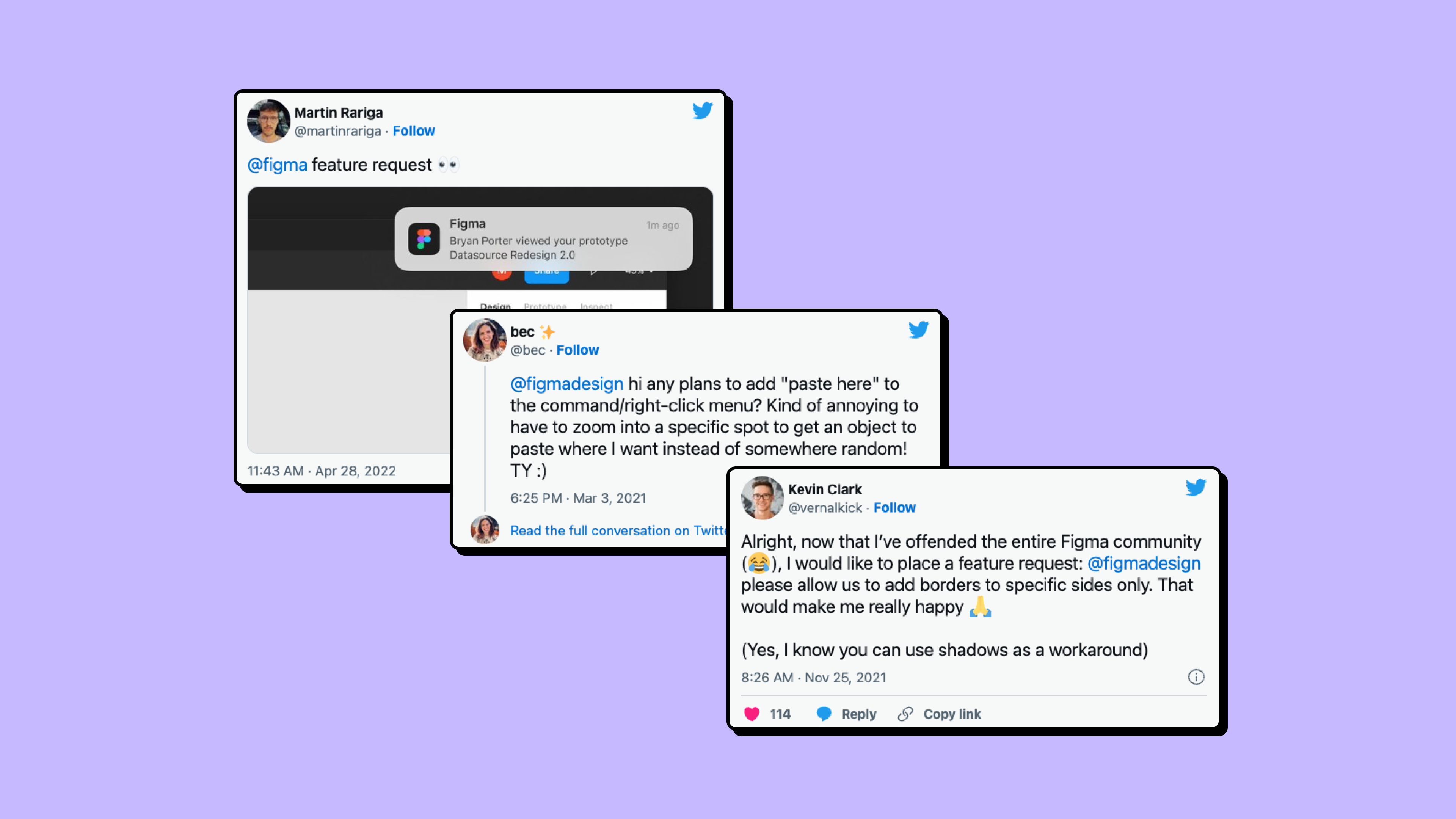 But this new way of working isn't just about reconsidering internal collaboration amongst designers and stakeholders. It's also an opportunity to integrate customers into the design process. With fast output being key in today's product development, there is an expectation that products will evolve after they launch. Although this allows for imperfections and for designers to be less precious about their work, customers today expect to be part of the process. They want to help shape the product and for the choices we make to accurately reflect their needs. Reaching customers for feedback has never been easier and it's now an essential part of the design process if we want to continue creating relevant products.
Understanding the business impact
Another session that strongly outlined the reality of design today was the panel discussion between Des Traynor (Intercom) and Hubert Palan (Productboard). The two spoke about the importance for creatives to embrace the business side of design to set themselves up for a successful career. In today's competitive landscape, a strong knowledge of design is not enough anymore. Designers need to double down on their business understanding. It's important to develop a strong understanding of customers and their needs as well as the company objectives, in order to take calculated risks and innovate where it matters.
"What features are you comparing, competing, or winning on? Where are you trying to differentiate and where do you need to compromise?" – Des Traynor
Designers today need a good radar for where the impact is and they can't be afraid of being pragmatic about the rest, so they can keep up with the pace of an industry that is all about speed. This will often mean compromising with quick and appropriate design, but when trying to stand out, designers need to know when it's time to take some risks. After all, you don't get great design by following the rules.
In recent years, companies have invested heavily in building design systems and pattern libraries to optimize their design process, but this hardly inspired creative freedom. For designers to live up to their full potential, companies need to create a safe space for experimentation, where calculated risk is stimulated, and failures aren't just tolerated but celebrated as an inevitable step towards innovation.
Making conscious creativity the norm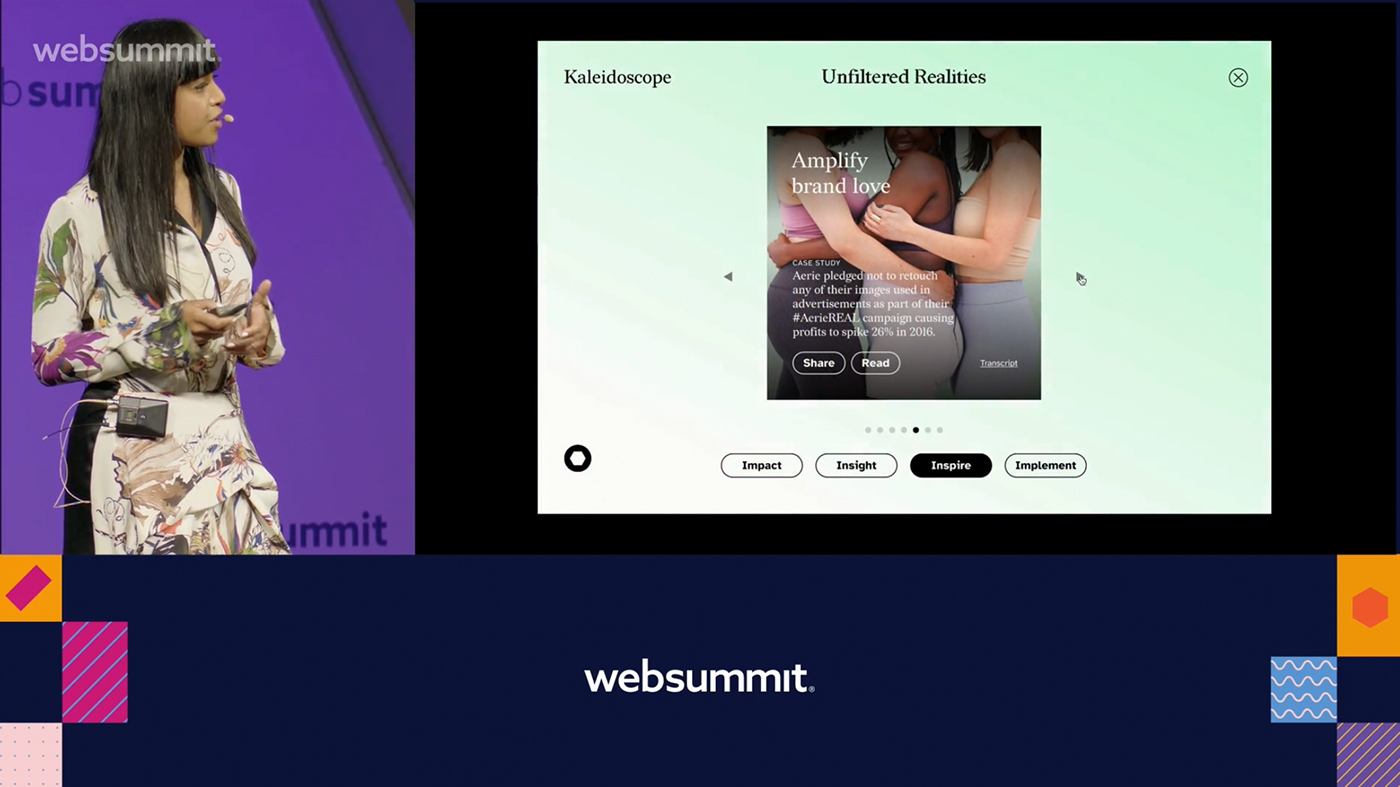 Natasha Chetiyawardana (Accenture Song) shared her point of view on how creativity today doesn't have to be a compromise. Instead, she made a strong case for a "design for good" approach, stating that creating for positive impact has gone from a "nice to have" to being non-negotiable. As consumers increasingly choose to buy from businesses that put people and the planet first, this new approach could be the secret weapon to building trust with consumers and a huge commercial opportunity for the creative industry.
"Doing good is not an add-on anymore. It's a requirement." – Natasha Chetiyawardana
She introduced a platform called Kaleidoscope, which aims to help designers rethink traditional briefs and make it easier to integrate topics such as inclusion, diversity, equity, accessibility, and the environment into every solution. Through experimentation, creativity, and new ways of looking at problems, we can work towards a more conscious form of creativity and make positive impact the norm. Not only does this way of working lead to more innovative solutions, but it allows designers to expand their creative freedom and find new ways of adding value to their work.
Wetransfer's 22 ideas report showed that 55% of creatives consider taking on projects that align with their values to be essential. Yet only 22% say that they are able to do so. This demonstrates that there is a demand from creatives for meaningful work, but a big discrepancy with what is available. The shift towards creating for positive impact can't just come from designers themselves. To avoid the checklist outcome, organizations and creative leaders need to enable this new approach, set an example, and proactively communicate their intentions. Only then can we fully start to tap into the potential of conscious creativity.
Designing slow for fast change
The Web Summit is all about showcasing what's new in technology today. New emerging technologies are growing fast, disrupting industries and professions. So it's no surprise that the most common challenge for creatives today is simply to keep up. According to Wetransfers' 22 ideas report, creative professionals are eager to dive into Web3, but nearly 60% of creatives feel ill-prepared for a future that's largely being defined by technologies like AR, VR, and AI.
Fabian Birgfeld (W12 studios) reminded us of the importance of repositioning ourselves as designers to make sure that these new technologies don't make us irrelevant. There are many technologies today that can already create high-quality designs, outdoing what humans can do in no time. He gave the example of Jason Allen's AI-generated artwork that won first prize at the Colorado state fair earlier this year.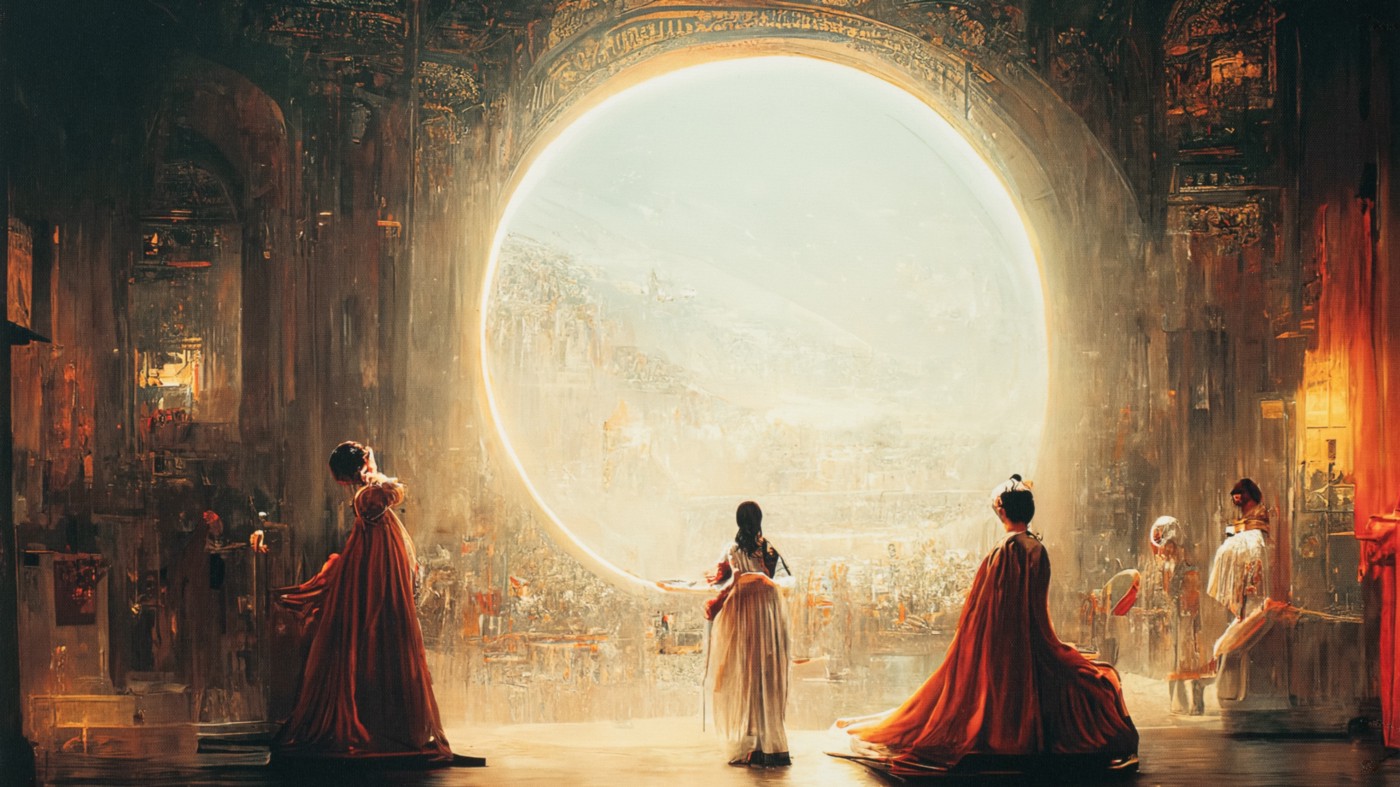 But Fabian also reminded us that although technology has become a much larger part of design, it still requires actual humans to solve problems, emphasizing the importance of human-centered design. We have a responsibility as designers to ensure that the solutions we come up with are sustainable, equitable, and inclusive. We are, after all, ambassadors of the users, and we need to represent them fairly.
"We can solve problems with technology, but technology will not solve it by itself" – Fabian Birgfield
So as these new technologies are drastically changing the pace and outcome of design, making sure that we stay focused on the human experience might be the biggest challenge of all. But as long we continue to evolve and solve real problems for real people, designers can still create truly innovative work and make the impossible possible.
In short
Each year, the Web Summit serves as a reminder of how fast our industry is changing and this year's edition in particular made it clear that we're living through tumultuous times. Every creative I heard from shared their own version of the challenges this brings with it, but the sense of optimism and excitement was undeniable. These new and emerging technologies offer new opportunities for creative freedom, better design, and greater impact. So if there's one key takeaway from this year's Web Summit, it's that there has never been a better time to focus on the human experience and for positive impact to become the norm.
Want to learn more about our team's impressions at the Web Summit? Check out what my colleagues learned during last year's Web Summit!