Redefining design for a better future
One month ago, I had the opportunity to go to the 7th edition of the Service Design Days in Barcelona. A few hundred creative thinkers, designers, strategists, change-makers, and leaders gathered for this transdisciplinary conference. The program offered new outlooks and knowledge from experienced thought leaders, inspiring masterclasses, and case studies. This year's theme was about "shifting the paradigm – tackle short-termism and create value for the long run".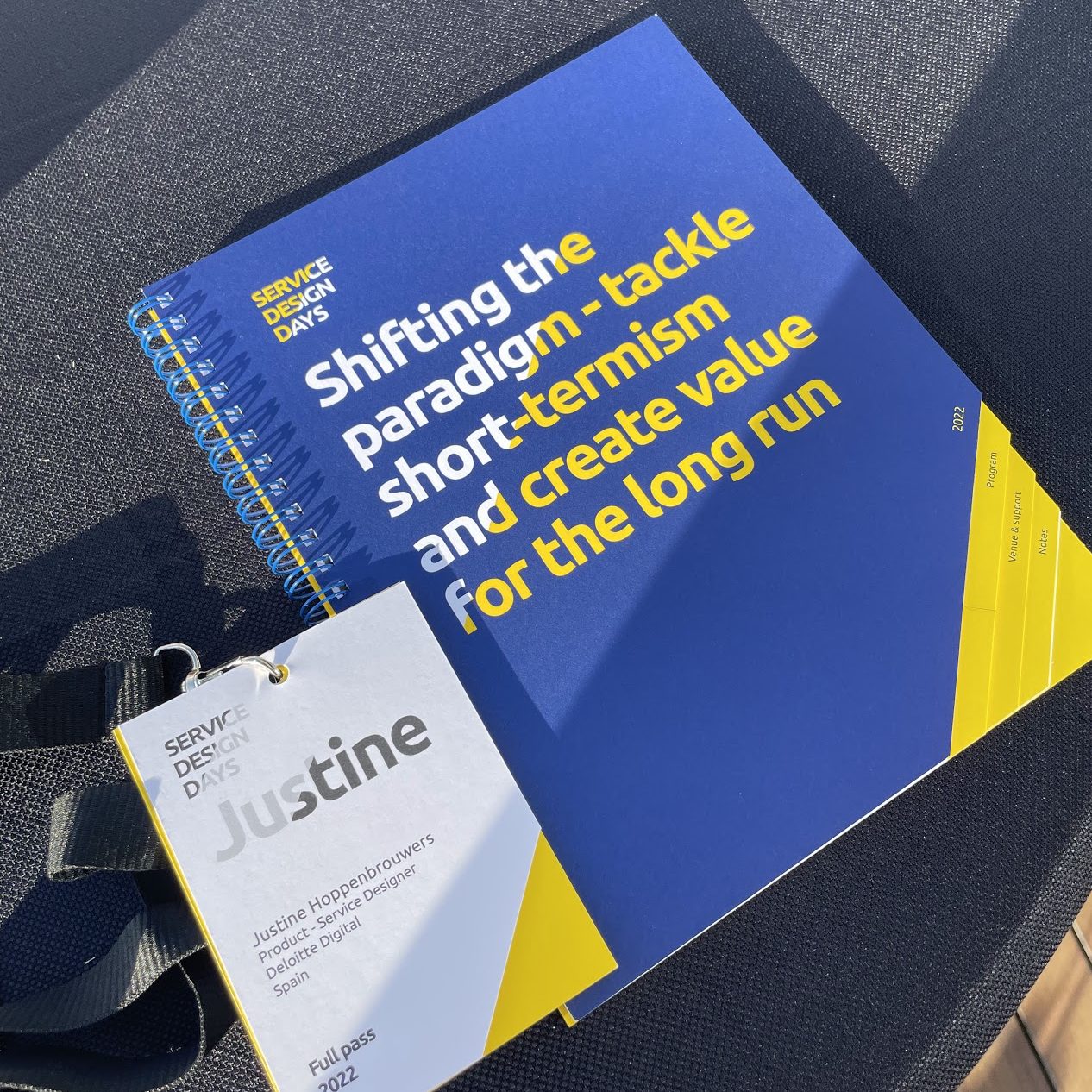 This edition's topic was particularly relevant given the current turbulent times. Daily headlines remind us of many events which are today no longer happening in isolation. Because turbulence and uncertainty are layered with such complexity, we need to learn how to maneuver in these times. But also find ways to design interventions that provoke permanent and positive changes in behavior.
A lot of talks sparked my inspiration and grabbed my attention, but these are two of my key takeaways:
Eyes on the horizon
Future thinking is the hottest core competency for businesses and a key strategy to success in which they create beyond the long term. The service design profession has grown by improving our ability to understand and deal with complexity and short-termism. The evolution of design has transitioned from a world of physical objects towards experiences in more complex contexts. It pushes us to take its effects on the ecosystem into account.
As service design is in essence about empathy, now is crucial to ask how we can design positively for people to let them enable change. Stuart Candy, Director at Situation Lab, showed us examples of design to evoke a deeper engagement with the future. One example he presents is "The Thing From The Future", an imagination game that challenges players to collaboratively and competitively describe objects from a range of alternative futures.
From careless to caring
One masterclass that stuck with me was 'Designing solutions for the edge case' by Nairobi's IDEO.org designers Ich Gichuki and Celestine Njuguna.
They reminded us that 3 billion people are still on the brink of internet access. This masterclass showed how to design relevant and affordable digital products and service, and caught the attention of a service designer like me. Millions of users are non-tech savvy, have low literacy and numeracy skills, and are hard to reach.
IDEO.org, together with Google and the Bill & Melinda Gates Foundation, came up with an interesting tool called Digital Confidence Design Tools. They help teams design digital services for the next wave of internet users. It is meant to see an app with fresh eyes, design new flows, develop innovative interaction patterns, or even brainstorm about a brand-new product. To limit our bias while designing, their User's Context cards can come in handy during design sprints. These cards push you to question your product whether it can serve this specific user group and help keep empathy at the forefront.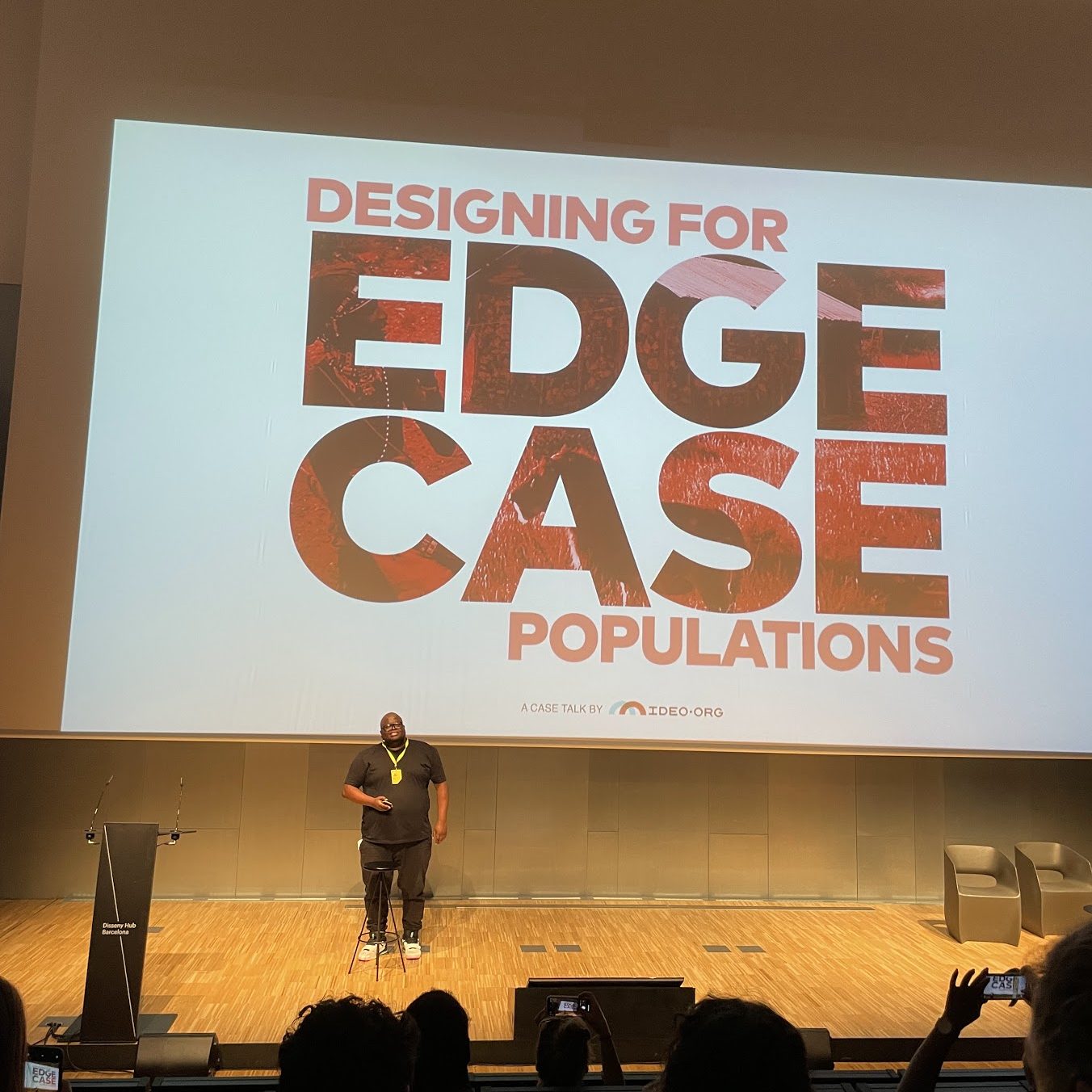 Designing for the next wave of internet users
The global pandemic pushed government institutions to digital administrations and assistance, which doesn't make life much easier for these users. This happens even in our country, a recent study showed that ten percent of Brussels' citizens don't have access to the internet and a third of them lack basic digital skills. We often work for Government and Public sector projects where the end-users are the general public. This means that our products and services need to serve very diverse user groups. I'm using this example because this topic is just as relevant for us, as it is to the designers who are creating solutions for hard-to-reach populations in Kenya.
celebrate design, boost creativity
I spent these two days in the Barcelona Design Centre, listening to cases from all over the world and getting inspired, and sharing with peers in the field. One could feel the motivation and eagerness to go home and apply everything they learned to their projects. I would advise everyone, if possible, to go at least once a year to conferences, talks, and other events that inspire them. Last year I went to Web Summit and wrote about my experience together with my colleague Thao. Being able to share knowledge, connect with other practitioners, and gain new perspectives is a perfect remedy for boosting your creativity and motivation.